The beauty about technology is that it is always evolving. One software takes over the other and one device takes over another, this is how the world of technology keeps moving ahead. Animation is one field that has garnered quite a lot of attention during the past 25-30 years. From 2D technology arose 3D technology. Ever since the advent of 3D technology, software like MAYA, max labs have been the primary sources of animation. Offered at premium prices, these software required quite a lot of skill and experience to excel at these. 2D animation is still being used mostly for general animation purposes by most firms that can't bare the heavy costs of Maya technology and skilled personnel. The recently evolving animation technology, Blender is now a new hope that will be useful to take 3D animation to a whole new level.
As defined by Wikipedia.com Blender is a professional free and open-source 3D computer graphics software product used for creating animated films, visual effects, art, 3D printed models, interactive 3D applications and video games. Blender includes a lot of features like 3D modeling, UV unwrapping, texturing, raster graphics editing, rigging and skinning, fluid and smoke simulation, particle simulation, soft body simulation, sculpting, animating, match moving, camera tracking, rendering, video editing and compositing. In brief, Blender is a free software for animation that does everything that any other expensive 3D animation can do.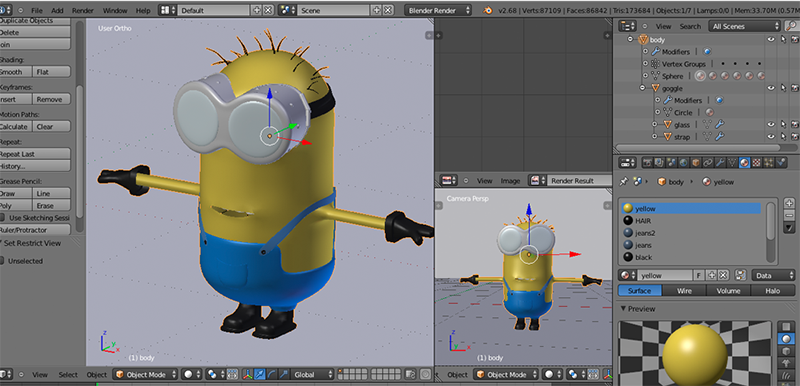 Tech-gurus predict that Blender can be the future of 3D animation. They are probably correct. Here are the reason why Blender can take over all the overtly commercial software in 3D animation industry:
It being an open source project can be used for personal and commercial purposes for free, without any licensing or copyright issues. There are numerous companies that used pirated version of Maya now. With the companies taking measures to stop this piracy, obviously all the Maya users will look for something else, as effective as Maya!
Blender manages to do a lot more than many commercial software and can compete even the big expensive names. Many were scared off by the interface in versions up to 2.49. It looked less polished and was not user friendly. Starting with release 2.5, Blender has a shiny UI that looks as professional as anyone could wish and the improved functionality and work flow makes it friendlier to new and old users.
It can render photorealistic quality images by itself or through external renderers
It is fast enough and getting faster with each version
Because of the not-so-heavy size of the software, it can handle complex scenes without crashing or some disaster happening right before a deadline.
It is pretty simple and easy to understand. Unlike the software which seem difficult even after months of training.
The only negative points of blender are that they aren't usable for architects for visualization. But with better versions coming up frequently we can expect blender to soon become a good tool for architectural visualization. The current complaints regarding layer management, texture mapping and disabling an object from casting shadows without having to work around too much are also being worked on. There are some tools missing like a proper offset but the developers' community is working on add-ons that will complement the latest release.
So yes, undoubtedly Blender is the future of Animation industry which is good place for creative and artistic people. Blender training is now being offered in various institutions and it is a suggested course for up-coming and enthusiastic animators.
To search for institutions offering Blender, do download Admizz app in your mobile or visit Admizz.com . We are a group of young entrepreneurs working on improving the way education is pursued. Admizz is our first step towards better and digital education.
We, Admizz.com , are the perfect place to search or to get direct admission into all types of colleges, training institutes and educational institutions. This is our small step towards digitizing the process of admission in the education system. We believe that not only education, but also its initial processing should get digitized. Many prestigious institutions are listed in Admizz.com . Not just colleges and schools, information regarding training and coaching institutions is also a part of our website. Students can see the listed institutions in the city of their choice. One can also see the college description, courses offered, fee structure and also the reviews of the selected institution.
After getting all these details, student can apply online to get admission in the Institute of their choice. One can save a lot of Time, money and effort by using @Admizz.com. One can also mail us for any support and get assistance from our trained employees. Our vision is to make admission procedure very simple for students with the use of technology. Admizz.com is managed by INRA EduTech Services Pvt. Ltd. and MKS Technology Pvt. Ltd. in India and Nepal respectively.